As the weather begins to cool off from the sweltering summer heat and as pumpkin-spiced everything hits the shelves at stores across the country, owners and managers are making preparations to begin winterizing their commercial properties. Without taking the proper steps, the brutal snow and ice can be devastating to a building, leading to structural damage and even personal injuries.
Brokers and agents writing catastrophe insurance for property managers should work with these clients to ensure they're taking all of the necessary precautions for properly preparing the premises for the harsh winter months ahead. Not only can the elements cause significant property damage, but freezing temperatures also the increase the risks to vital safety systems, such as fire sprinkler systems.
According to the Insurance Information Institute, the percentage of insured catastrophe losses caused by winter-related weather events more than doubled between 2013 and 2014. Dr. Robert Hartwig, president of the I.I.I., noted just how much these costs rose during this period.
"Severe winter weather caused 15 percent of all insured auto, home and business catastrophe losses in the United States in 2014," said Hartwig. "Losses from snow, ice, freezing and related causes totaled $2.3 billion last year, after averaging about $1.2 billion annually over the previous 20 years. Insured losses caused by winter weather were $1.9 billion in 2013 so the last two years have been well above what the insurance industry has traditionally seen from this type of severe weather."
Check the HVAC system
Having the heating ventilation and air condition system in good working order is a top priority for dealing with the winter weather and avoiding a potential problem during these cold months. This is a task that property managers typically cannot accomplish by themselves. It's best to contract a professional HVAC company to perform an inspection of the system to ensure it's working properly and prepared for the falling temperatures ahead. Speaking with DPM Care, Chad Lovell, chief engineer for Jones Lang LaSalle property management, noted that it's important that inspectors prepare the system for the season, including "test[ing] freeze stats in air handlers."
Both occupied and vacant spaces should be inspected and in good working operation. In addition to avoiding any potential problems that might arise due to a poorly working HVAC system, when this is operating effectively, it can save property managers on heating costs in the winter.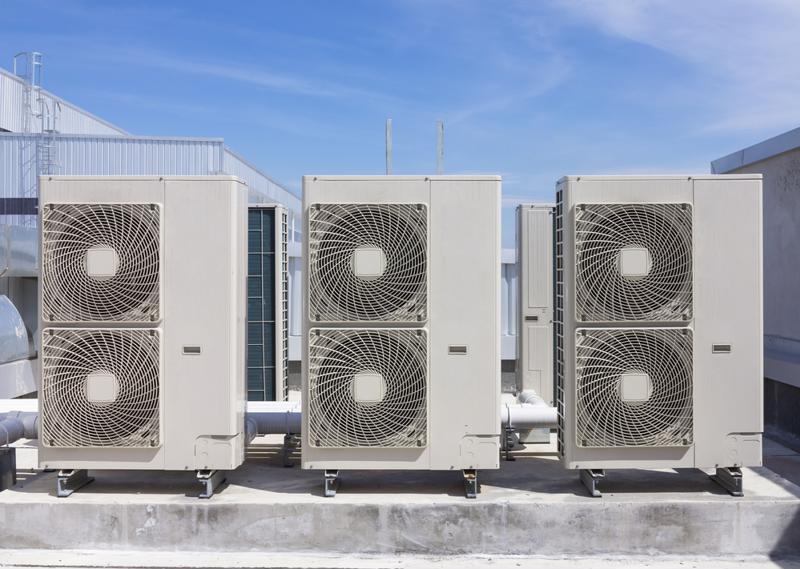 Inspect all water pipes
One of the biggest concerns for a commercial building during the cold winter months is the threat of frozen water pipes. When water freezes, it expands ever so slightly. This ice build-up also freezes the pipe, making the metal more brittle and therefore vulnerable to breaking. Just a small ice patch in a pipeline is enough to cause a rupture, and even the smallest crack can have severe consequences.
Sprinkler pipes on the ceiling can bust and rain down water across an entire office, damaging computers, furniture, electrical equipment and carpeting. Underground pipes can flood a basement and lead to foundational damage. Wall pipes can ruin the drywall and lead to long-term problems like mold.
"Burst pipes in vacant buildings can cause much greater losses than heating costs."
Asset Management Alliance, a property management team, suggested keeping on the utilities in vacant buildings during the winter. While this might be an additional maintenance cost for the property manager, the heat will ensure water stays moving through the pipes and doesn't freeze. Frozen pipelines can burst and subsequently cause much greater losses than the heating costs.
In addition, disconnect and remove any and all outside water hoses.
Even property managers in areas that do not generally have to deal with freezing temperatures should be sure to make the inspections rounds. If there's even the slightest chance that the potential exists for the temperature to fall to below freezing, there's a risk of a pipe rupture.
Plan for snow
Properties in areas that receive snow have to be ready. This includes stocking up on shovels, salt, sand and other de-icing equipment. If there's a parking lot, contact a plow service. Consider getting a spreader to salt the sidewalk. Not only is eliminating snow and ice from the walkway important to clear a pathway for tenants and workers so they're not trudging through this slush, but it's crucial for reducing the chances of a slip-and-fall incident that could potentially injure someone.
Any injuries on the premises due to a slip and fall because of unshoveled snow or a lingering ice patch can lead to a lawsuit against the property management team and a major financial loss.
This also includes budgeting for additional purchases in case something runs out. No one can predict the full force of the weather beforehand, and there's always a possibility of a blizzard or ice storm that drops more snow down than people expect.
Have a plan in place
Weather catastrophes can be unexpected and come without warning. Even with all these precautions in place, it's still not enough. Property management teams need to have a responsive plan in place for handling tenant calls about broken pipes, property conditions and more. Keeping the office open and having experienced staff members ready on standby 24/7 during major weather events ensures issues are dealt with immediately. In addition, a crucial component to any winterizing plan is having the necessary CAT property insurance coverage to provide peace of mind following a destructive blizzard.
McGowan Risk Specialists provides brokers and agents the experience and industry expertise they need for dealing with the fallout from a catastrophic weather event.  With more than 75 different occupancy classifications, McGowan offers a wide range of CAT property insurance nationwide.